Susie Sant'Anna, DPM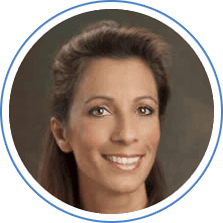 Susie Sant'Anna, DPM
Dr. Sant'Anna is a new member to Summit Podiatry as of January 2020. She grew up in Boston, Massachusetts and later graduated from the University of Massachusetts. She later went to the California College of Podiatric Medicine in San Francisco where she earned her degree in Podiatric Medicine. Dr. Sant'Anna completed her residency training in Whittier, California where she specialized in Podiatric Surgery. She is Board Certified by the American Board of Podiatric Surgery.
In her career she has treated all types of foot conditions which includes bunions, hammertoes, neuromas, fractures, sports medicine injuries, Diabetic foot care, podopediatrics and general foot care.
Dr. Sant'Anna has come to us from Austin Texas, where she had been in private practice for over 20 years. She was on staff at all the major hospitals throughout the city. She brings with her many years of experience both in the office and the surgical setting.
Dr. Sant'Anna currently lives in Wilmington with her two children - twins! In her spare time she enjoys home renovation projects, creating backyard gardens and unwinding at our local beaches.